Friday, April 16th, 2021
Father & Son Winemaking Legacy in Sonoma

Zoom Webinar With At-Home Kit
-or-
In-Person Tasting at Bottega Del Vino Santa Fe
Father and Son winemaking icons, Morgan Twain-Peterson MW of Bedrock Wine Co. and Joel Peterson of Once and Future, co-host a Sonoma field-blend and main field-blending varieties tasting.
Father and son will each present their bottling of the historic 2019 Old Hill Ranch Heritage Wine and then taste and discuss wines made from the predominant field-blending varieties present in the wine – Grenache, Petite Sirah, Mataro and Carignan.
The wines featured are:
2019 Bedrock Sonoma County Carignan
2018 Once and Future Oakley Road Mataro
2018 Bedrock Wine Co. Gambrels of the Sky (Grenache)
2018 Once and Future Palisades Petite SIrah, Calistoga
2019 Bedrock Old Hill Ranch Heritage, Sonoma Valley
2019 Once and Future Old Hill, Sonoma Valley
As a special treat and nod to Joel's history as founder of Ravenswood, the Ravenswood 1999 Teldeschi will be shared.
Zoom webinar with at-home tasting kit $150
-or-
In-person @ Bottega Del Vino Santa Fe $50
5-6pm MT
Friday, April 9th, 2021
Regenerative Farming in Napa Valley with Steve Matthiasson

Zoom Webinar With At-Home Kit
-or-
In-Person Tasting at Bottega Del Vino Santa Fe
Join us in person at Bottega Del Vino in Santa Fe, or on Zoom, for a tasting and discussion of Napa Valley wines with Steve Matthiasson, one of Napa's leading vigneron's and top vineyard consultants.
The Hour Long Tasting and discussion will feature these thee wines
Matthiasson Rosé 2017
Matthiasson Linda Vista Vineyard Chardonnay 2017
Matthiasson Refosco Matthiasson Vineyard 2016
Zoom webinar with at-home tasting kit $150
-or-
In-person @ Bottega Del Vino Santa Fe $50
5-6pm MT
Friday, April 2nd, 2021
It's Willamette Dammit

Zoom Webinar With At-Home Kit
-or-
In-Person Tasting at Bottega Del Vino Santa Fe
Join us in person at Bottega Del Vino in Santa Fe, or on Zoom, for a Willamette Valley Tasting featuring Evan Martin of Martin Woods Winery. Rajat Parr of Evening Land Vineyards and, Larry Stone MS of Lingua Franca Wines
Evan Martin, Rajat Parr and Larry Stone MS will spend an educational hour on Zoom discussing winegrowing in Willamette Valley with a tasting of these six wines
Evening Land Seven Springs Pinot Noir, Eola-Amity Hills 2019
Evening Land Seven Springs Chardonnay, Eola-Amity Hills 2017
Lingua Franca Anvi Chardonnay, Willamette Valley 2018
Lingua Franca Anvi Pinot Noir, Willamette Valley 2017
Martin Woods Chardonnay Willamette Valley 2018
Martin Woods Pinot Noir Jessie James Vineyard 2018
Zoom webinar with at-home tasting kit $180
-or-
In-person @ Bottega Del Vino Santa Fe $50
5-6pm MT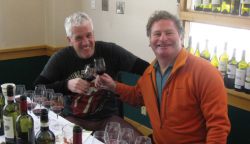 Friday, March 26th, 2021
Under the Tuscan Sun
Zoom Webinar With At-Home Kit
-or-
In-Person Tasting at Bottega Del Vino Santa Fe
Brian Larky will spend an educational hour on Zoom with you sharing the history of winemaking in Tuscany while tasting these three Tuscan Sangiovese wines:
Casanova di Neri "Irrosso di Casanova di Neri Toscana" IGT 2016
Poliziano Vino Nobile di Montepulciano DOCG 2017
Capezzana Villa de Capezzana id Carmignano DOCG 2015
Adami Prosecco Brut Garbel (Bonus intro wine for the tasting)
Zoom webinar with at-home tasting kit $85
-or-
In-person @ Bottega Del Vino Santa Fe $45
5-6pm MT
Friday, April 23rd, 2021
Webinar – TBA
TBA
Zoom | 5:00-6:00 PM
TICKETS COMING SOON
Friday, April 30th, 2021
Webinar – TBA
TBA
Zoom | 5:00-6:00 PM
TICKETS COMING SOON